Ellie

It has been funny this week. Busy in patches.
I had the strangest feeling that you might've come to town this weekend. you're not, though.
I am going to a party on Friday night - California Annie is having her 44th birthday.
I am glad you like the picture of Ellie. Fat Ellie is such a nervous child with her little pale nose and exceedingly well padded frame. I love her very much. She was on my lap last night while I was watching a video. she was holding onto me.
Sometimes I get the feeling that she is waiting. Maybe waiting for you, I don't know. She has a sadness about her. She tries to tell me things. I think the divorce affected her.
I was sitting outside at Ernestine's house the other evening. - She has that little plastic table at the base of her outside stairs, remember? We sat and chatted for a while. I was looking at our old house, with the garage still painted white, and I said to Ernestine: "I am going to go home now, Ernestine, ----- will be home soon and I must get supper ready".
It was just a passing thought and I thought I would share it with you.
I think sometimes that it would be better to be a computer with the ability to delete files and memory chips and just simply upgrade to better software. However, if you're wired a certain way, it is so difficult. Oh well, it's part of the journey - for this old Mac brain, anyway. It was a passing moment.
I have had two people this week tell me that they love me and all I get is this feeling of resignation. It's a kind of pain that jumps up from a corner of my heart where it has been crouching quietly in the mists.
I have heard those words before and I know it all to a moment of infatuation for a foreign exotic flavor. I know from past experience that this is an untruth - this 'I love you' stuff. I had thought I was loved once before in my life but it turned out to be hollow.
I had a reply to this letter but I am of the opinion it was merely manipulative so I won't publish it in this now ending saga of unrequited love. It is time for me to walk away and not look back.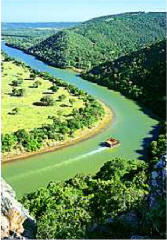 Kariega River - 80 miles outside of Port Elizabeth